Few words about Neo Chorio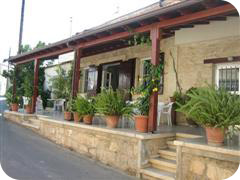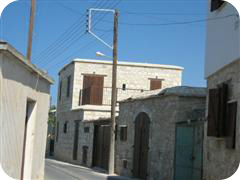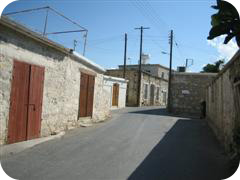 Neo Chorio is a traditional village in Paphos . It is situated on the western part of the island and it is related with Akamas since the older times. Neo Chorio has a population of approximately 500 including 200 expatriates. Stone-built houses dominate the architecture of the village typical characteristics of houses which have been restored are stone-made walls, wooden stairs, and traditional mud ovens. The church of Saint Minas is located in the center of the village. Its construction began in 1906 and was completed in 1912. Architecturally, it is built in Gothic style and internally it is a singled-room church. A chapel dedicated to Saint George was built in the early eighteenth century . The belfry has been built recently and is located on the western side of the chapel. The chapel of Saint Minas, according to research conducted by the department of antiquities, is a 16th century chapel. It is a small and unaffected chapel . It is a singled-room small church with inner arcs. Internally, the chapel is simple and its walls have some frescos. It is located several kilometres outside the village center. The chapel of Saint Ephraim is situated on a elevation at the entrance of the village, in the area called "anadasmos (re-distribution of land)", in between pine trees. The view is unique with panoramic views Polis Chrysochous and the Akamas penisunsula.
(from Wikipedia.org)
| | |
| --- | --- |
| Case of Emergency | 199 or 112 |
| Forest Fire Report | 1407 |
| Paphos Hospital | 26803100 |
| Polis Hospital | 26321431 |
| Polis Municipality | 26321321 |
| Pharmacies | 90901406 |
| Polis Police | 26806280 |
| Paphos Airport | 77778833 |
| Polis Post Office | 26321539 |
| Paphos post Office | 26818520 |
| Polis Museum | 26322955 |
| Exact Time | 1893 |
| Bank of Cyprus | 80000800 |
| Directory Enquiries | 11892 |
| Tourism Information Office | 26932841 |
(The International country calling code of Cyprus is +357)

In the street:
Excuse me:

Signomi

Thank you:

Efharisto (in a restaurant or cafe thank you is better: Efharistoomay)

Do you speak English:

Milatay Ag-glika?

How far is it?:

Posso makria eenay?

Excuse me, where is...:

Signomi, poo eenay...?
In a restaurant:
How much is this?:

Posso Kanay Afto?

Do you have a toilet?:

Eheeyete Too-aletta?

Can we see a menu?:

Boroomay na doomay enna menoo?

Can we pay the bill?:

Boroomay na plirosoomay?

Too expensive:

Polee akrivo

for me:

Ya menna

That's fine:

Andaxi

OK:

Andaxi

It's good (food, anything):

Oraya
Introducing yourself:
Good morning/good day (until about 13:00 or so):

Kalimera

Good Afternoon or Good evening:

Kalispera

Good night:

Kalinihxta

See you/Hello/Hi:

Yassas

How are you:

Ti-kanis

Well/good:

Kala

I do not understand:

Den katalave'no

What is your name?:

Pos se le'ne?

Nice to meet you:

He'ro poli'

How are you?:

Ti ka'nete
Shopping:
How much does this cost?:

Po'so ka'ni afto'

What is this?:

Ti' i'ne afto'

I'll buy it:

Tha to agora'so

I would like to buy:

Tha I'thela na agora'so

Do you have:

'Ehete



Do you accept credit cards?:

Pe'rnete pistotike's ka'rtes

Top 5 Things to do in Polis/Latchi

(Suggested)

1 - Explore the Akamas peninsula!

The Akamas Peninsula is an area of outstanding natural beauty - deep gorges, a wild landscape, wide  sandy bays. It is also an area of great biodiversity and ecological significance. Home to 530 plant  species and ideal for walkers. Located in the west of Cyprus, the  Akamas peninsula covers approximately 230 square km and is where you will find wild untouched  landscape, amazing natural beauty, deep gorges and stunning sandy bays.

2 - Visit Latchi harbour and Marina!

Latsi Marina is the newest marina in the Paphos region of Cyprus. The fishing harbour has been recently extended providing many more berths for yacht and boats. Here you can dock right outside the restaurants and cafes and are within walking distance from everything.



3 - Discover Neo Chorio village!

A wonderful example of a typical old Cyprus village. See old houses restored in traditional stone. Watch old ladies weaving in the traditional way. Visit the village pottery shop. Enjoy authentic home cooked food at Taverns and restaurants.

4 - Boat along the Akamas!

Choose an organised trip or hire a private speed boat - it's good value for a small group. Don't forget your swimming costume for that dip in the blue lagoon!

5 - Try a new watersport!

Scuba diving in the clear waters along the Akamas
Jetski!
Sailing!
Windsurfing!
Water skiing!
Wakeboarding!
Banana ride!
Tube ride!
Parasailing!

All these watersports can be found down in Latchi!
Top 5 Places to Visit in Paphos area

(Suggested)

1 - Aphrodite Rock!

This famous landmark is located between Limassol and Paphos and is something not to be missed. Cyprus is extremely proud of its ancient past and this includes the fact that it is the birthplace of the  Greek Goddess Aphrodite who was the Goddess of love and beauty.  Legend has it that Aphrodite emerged from the sea in a surge of amazing sea foam in 1200 BC at this point and it is believed that she herself choose Aphrodite's rock as the ideal location to begin her life as a mortal.

2 - Paphos Castle!

Paphos castle is located in Kato Paphos at the harbour. This castle was originally built to protect the  harbour and was a Byzantine fort. During the 13th century the castle was rebuilt by the Lusignans. In  1570 however, the castle was once again destroyed by the Venetians who at that time were unable to  protect the castle from the ongoing attacks by the Ottomans. The Ottomans succeeded in gaining  access to Paphos and during the Ottoman rule the castle was once again restored, expanded, and  strengthened to what it is today.

3 - Tombs of the Kings!

Located only 2km north-west of Paphos harbour these underground tombs are carved out of solid rock  and are a sight to behold spreading out over a vast area of landscape. Many of these tombs date as far back the the 4th century BC and are thought to have been burial sites for high officials and aristocrats.  No Kings are actually buried here and the name itself originates from the magnificence of the tombs. 

4 - Paphos Mosaics!

Paphos Mosaics are considered to be the finest mosaic in the Eastern Mediterranean, located beside the harbour.These striking mosaics are a must see and many of them show scenes from Greek Mythology. They date from the 2nd century through to the 5th century and many are still in remarkable condition. These mosaics would have originally been the floors of Roman noblesmen's villas and many of these sites are still being excavated today.

5 - Baths of Aphrodite!

The "Baths of Aphrodite" is an area in the Akamas between Polis and Cape Arnaouti. It derived its name from a small grotto shaded by an old fig tree, in the waters of which, legend has it, the goddess Aphrodite used to bathe. According to mythology, this is where she met her lover Adonis. The site is on the Aphrodite Cultural Route.
Traditional Cypriot Food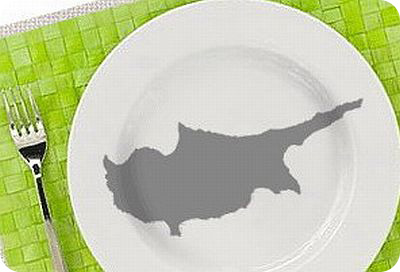 If there is one main element that characterizes the Cypriot cuisine, it is its freshness. The other is the variety of dishes that you will find in Cyprus. The Cypriot cuisine due to its Greek, Turkish and Middle Eastern influences offers some unique dishes and culinary experiences. Amongst the dishes you would expect to be served in most of the Cypriot restaurants and definitely should try when dining out in Cyprus are:
Souvla

:

The popular dish of Cyprus. It consists of large pieces of meat cooked on a long skewer over a charcoal barbecue

Meze

:

The definite introduction to Cypriot food ! - Meze consists of around 30 different dishes, meat or fish based. A unique eating experience, and a must try for every visitor to Cyprus.

Afelia

:

Pork marinated in wine and coriander.

Sheftalia:

Grilled spiced mince balls.

Koupepia

:

Grape leaves stuffed with minced meat and rice.

Stifado

:

Beef stew casseroled with wine, spices and lots of onions.

Loukanika

:

Sausages soaked in red wine and smoked.

Kleftiko

:

Lamb slowly cooked in a sealed clay oven and seasoned with bay leaves and other spices.

Lountza

:

Smoked pork done in a very Cypriot way

Halloumi

:

White cheese made from sheep's milk, spiced with peppermint and normally served grilled.

Talatouri

:

A much tastier version of the Greek Tzatziki, a yogurt dip with fresh mint and garlic.
Cyprus of course being a Mediterranean island has a lot of fresh fish dishes to offer including barbouni - red mullet, octopus cooked in whine, kalamari, white bait, sea bass and a lot more.
Traditional Cypriot drinks
Cyprus wines and wine production is amongst the worlds oldest dating back to around 2000 BC. There are over 100 varieties of grapes cultivated in cyprus, most of these are in Limassol and Paphos districts and on the foothills of Mount Olympus.
Probably the most famous wine is the dessert wine called Commandaria made from the Nama grape variety and dating back a few tens of hundreds of years.
Cyprus beer comes under one name KEO, an extremely popular beer that is regularly a prize winner in world beer competitions.
Cyprus spirits include Zivania, a strong drink similar to Raki normally served cold.
Cyprus Brandy which is high quality, probably the best known Cypriot brandy is VSOP.

Public holidays in Cyprus
| | |
| --- | --- |
| New Year's Day | |
| Epiphany | |
| Shrove Monday/Green Monday | |
| Greek Independence Day | |
| Greek Cypriot National Day | |
| Greek Orthodox Good Friday | |
| Greek Orthodox Easter Monday | |
| Labour Day | |
| Pentecost (Kataklysmos) | |
| Assumption of the Virgin Mary | |
| Cyprus Independence Day | |
| Greek National Day | |
| Christmas Day | |
| Boxing Day | |

Drive in Cyprus
In Cyprus we drive on the left !
Cyprus having in the past been a colony of the British Empire, has adopted the British road system. The condition of the Cypriot roads and highways in our opinion is excellent. Roads in Cyprus are very well kept and are constantly upgraded. Unlike many other European Countries, in Cyprus traffic jams or very busy traffic roads are hardly ever encountered. However long your stay on the island of Cyprus, it is very much worth it, to hire a car and explore the island.
Cyprus visitors driving license requirements.
Cyprus visitors can drive using their national full driving licence or a current international driving licence, provided that the licence is valid for the class of vehicle they intend to drive and have reached the age limits applicable in Cyprus. The minimum driving age is 18, but drivers often need to be 21 years old to hire a car.
Regulations:
Distances and road speed limits are posted in kilometres and kilometre-per hour (km/h).The maximum speed limit on the motorways is 100 km/h and the lower speed limit is 65 km/h. On all other roads the general speed limit is 80 km/h, unless a lower one is indicated. In built-up areas generally the speed limit is 50km/h, unless a different one is indicated. Road signs are in both Greek and English.
The use of front seat-belts is compulsory. Children under the age of five MUST NOT, under any circumstances sit in the front passenger seat. Children from five to ten years old may occupy the front passenger seat only if an appropriate child's seat belt has been fitted.
Heavy fines apply for those not wearing seat belts, using a mobile telephone or are under the influence of alcohol while driving.



Transportation in Cyprus
Rent a car:
Renting a car in Cyprus is relatively inexpensive, and if you are flying in, you can pick up a rental car on your arrival at either Larnaca or Paphos airports. If you are traveling to Cyprus during high season, it is recommended that you pre book your hired car.
Taxis in Cyprus:
All taxis are legally obliged to have a meter. There are taxi ranks in all towns and they may also be flagged down on the street, but booking over the telephone is the easiest and most efficient way. Be aware that fares are slightly more expensive after 8.30pm and on certain public holidays.
Taxis are relatively costly and therefore not recommended for travelling between towns. The best way to get from one town to another in Cyprus, if you're not driving yourself, is to take a Travel Express service taxi. The shared taxis pick you up and drop you off precisely where you want to go, and are much cheaper than normal taxis. They do take longer, however, as they collect passengers from various addresses around town and deliver them to their specific destinations. Taxis operate every half hour between all the main towns, with the last one leaving at 6pm. Routes served are Nicosia-Lemesos, Larnaka-Nicosia, Nicosia-Larnaka Airport, Larnaka-Lemesos, Lemesos-Larnaka Airport, Lemesos-Pafos and Lemesos-Pafos Airport.
Buses in Cyprus:
There is island wide bus service running every day and main routes have buses departing every 1-2 hours. Local routes have buses departing from main stops every 15 minutes in the summer. . Bus time tables and schedules can be found at the tourist offices or from the bus companies.
In July 2010, OSYPA Ltd. (Paphos Transport Organization) took over Paphos City Buses (A.LE.PA) which had been operating since 1980. OSYPA has acquired new and modern buses, hired new and highly skilled and professional staff and participates in the new government programme of Public Transport.
Rates on OSYPA buses are: 1 Euro - One Way, 2 Euros - Daily, 10 Euro - Weekly, 30 Euros - Monthly, 300 Euros - Yearly Fare.
Some passengers ride for free and include children under 12 years old, students with a student ID card, Cypriot soldiers and anyone with a Cypriot Social Card. Bus routes run regularly and can be found on their website.
Cypriot euro coins
Cypriot euro coins feature three separate designs for the three series of coins. Cyprus has been a member of the European Union since 1 May 2004, and is a member of the Economic and Monetary Union of the European Union. It has completed the third stage of the EMU and adopted the euro as its official currency on 1 January 2008
Depiction of Cypriot euro coinage - Obverse side
€ 0.01
€ 0.02
€ 0.05

1 cent, 2 cent and 5 cent: The Mouflon, the most characteristic species of fauna in Cyprus, representing the island's nature and wildlife.

€ 0.10
€ 0.20
€ 0.50

10 cent, 20 cent and 50 cent: The Kyrenia ship of 4th Century B.C., representing Cyprus's history and its character as an island as well as its importance in trade.

€ 1.00
€ 2.00
€ 2 Coin Edge
2 ΕΥΡΩ 2 EURO

€1 and €2: The Idol of Pomos, a cross-shaped idol dating back to the Cypriot chalcolithic period (3000 B.C.), found in Pomos, a village in the district of Paphos. It is a characteristic example of prehistoric art in Cyprus, representing the island's antiquity, culture and civilization.
Other Useful Information
• English is the second language and is widely spoken.
• Banks in Cyprus open for the public from 08:30 to 12:30 midday. Certain banks in tourist areas open during the afternoon. Automatic Exchange Machines operate on a 24-hour basis. Most currencies and denominations are accepted.
• The voltage on the island of Cyprus is 240 and the socket outlets are of the flat 3 pin-type.
• All types of medication are available in well stocked Pharmacies all over Cyprus.
• Telephone: Cyprus automatic telephone dialing system reaches 206 countries. Telecards can be purchased from Post Offices, Kiosks and Souvenir Shops.
• It is forbidden to remove antiquities from the bottom of the sea, or to take any antiquities out of Cyprus without a special export license.
• Visitors should respect ecclesiastical tradition and avoid wearing shorts and sleeveless garments in churches and monasteries.
• Short cruises to the Greek islands, Egypt, Lebanon and the Holy Land can be taken on one of the many comfortable cruise ships which offer full board accommodation and entertainment at very reasonable prices.
• Shopping Hours:
- April, May, September 15 - October 08:00-19:00 (Friday: 08:00-20:00)
- November to March 08:00-18:00 (Friday:08:00-19:00)
- June - September 14 08:00-13:00 and 16:00-19:30 (Friday: 16:00-20:30) Shops are closed all day Sunday and on Wednesday and Saturday afternoons.
• The climate in Cyprus is equable, with an abundance of sunny days throughout the year. The average daytime temperature in Cyprus from June to September is 32 degrees C°, from December to February 16 degrees C° and from March to May, and October to November, 25 degrees C°. Very cool, cotton clothes are recommended for the hot summer months, jackets and light sweaters may be required for the evenings during September and October, and warm clothes are worn during the winter months. End of January and February are very changeable, high winds and rain, and can be very cold, but the sun always puts in an appearance on a daily basis.
• Distances between towns are not lengthy.
• The trans-urban service-taxis are shared taxis, very reasonably priced, connecting (during daytime) the main towns of Lefkosia, Lemesos, Larnaca and Pafos during daytime.
• There are many car rental companies in Cyprus, and the top international names are ail represented.
• Petrol stations in all seaside areas and major towns are equipped with automatic pumps, accepting bank notes and operating on a 24-hour basis. On Sundays and Public Holidays. petrol stations in rural areas may open.
• A number of experienced tourist companies organize efficiently run tours, in modern air-conditioned coaches, with multilingual guides.
• Buses connect the main towns of Cyprus.